How an upstart entrepreneur on the other side of the world created a connection with a music legend.
A Uruguayan leather goods entrepreneur I've worked with asked me to proofread a terrible email. Terrible not because it communicated something awful. Terrible because it was guaranteed to fail. What follows is the story about how the writer of that email—a guy with no connections to rockstars—used cold outreach to make a dream come true.
Meet Tavo Rodriguez. He makes leather goods, including the jacket he's wearing below. Given the truck, the belt buckle, and the hat, you might think he's drinking a beer down the street from me in Austin.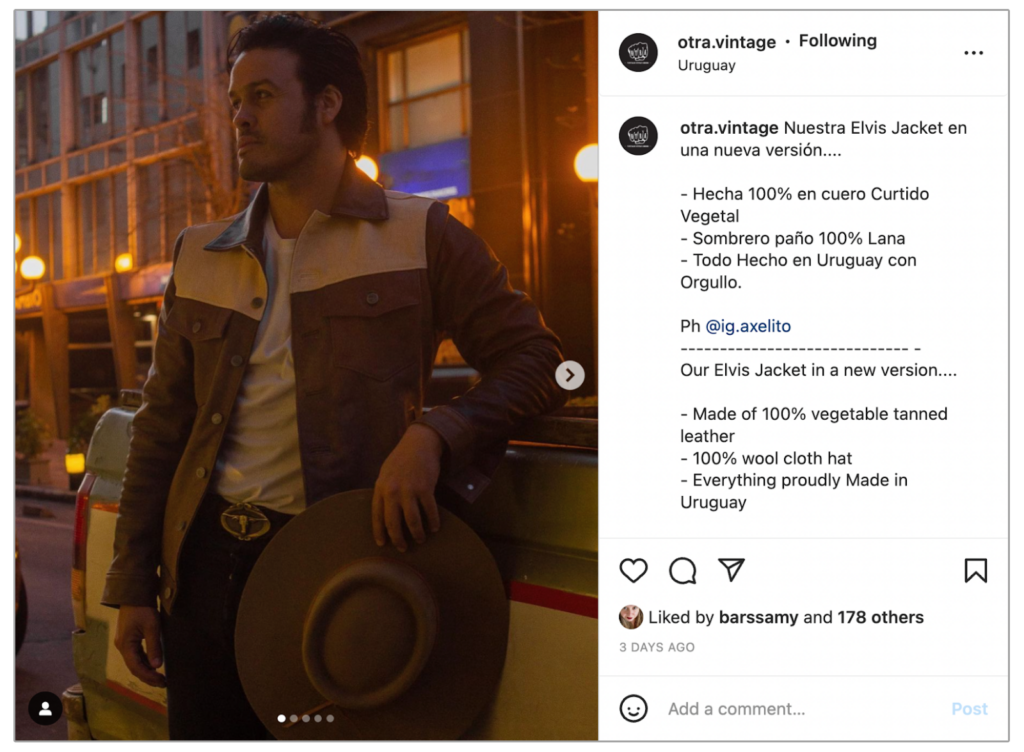 Mayyyyybe Mexico. But this is incorrect. Tavo lives at the bottom of the map in Montevideo, Uruguay.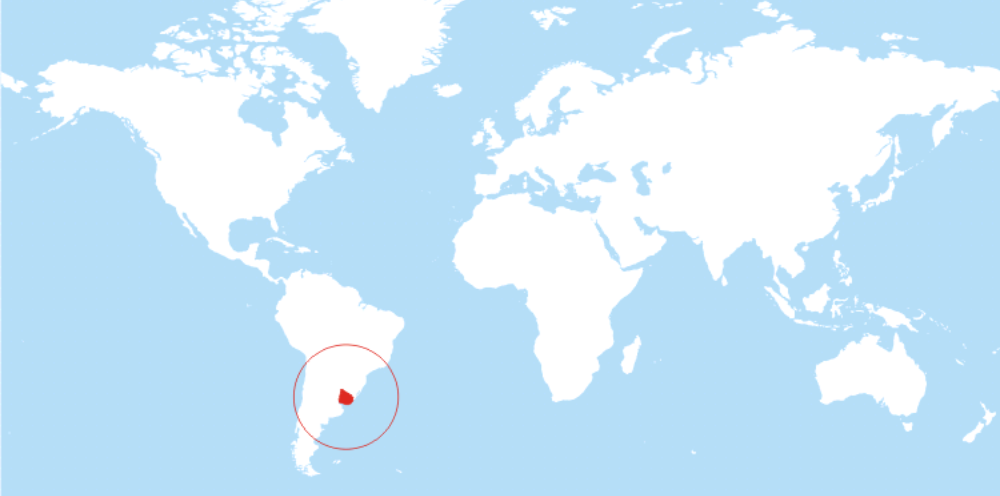 In 2017, he had a corporate job. But something was off. Three undeniable truths kept eating at him:
He was deeply burned out and wanted to legitimately care about his work
He was captivated by vintage American rock and roll aesthetics
He was from Uruguay, a cattle-rich country slowly losing hold of a long tradition of leather craftsmanship
The chemical reaction of these three ideas made it impossible for him not to start OTRA Vintage Style Goods, a clothing brand celebrating Uruguayan leather goods and 50s and 60s rock and roll cool.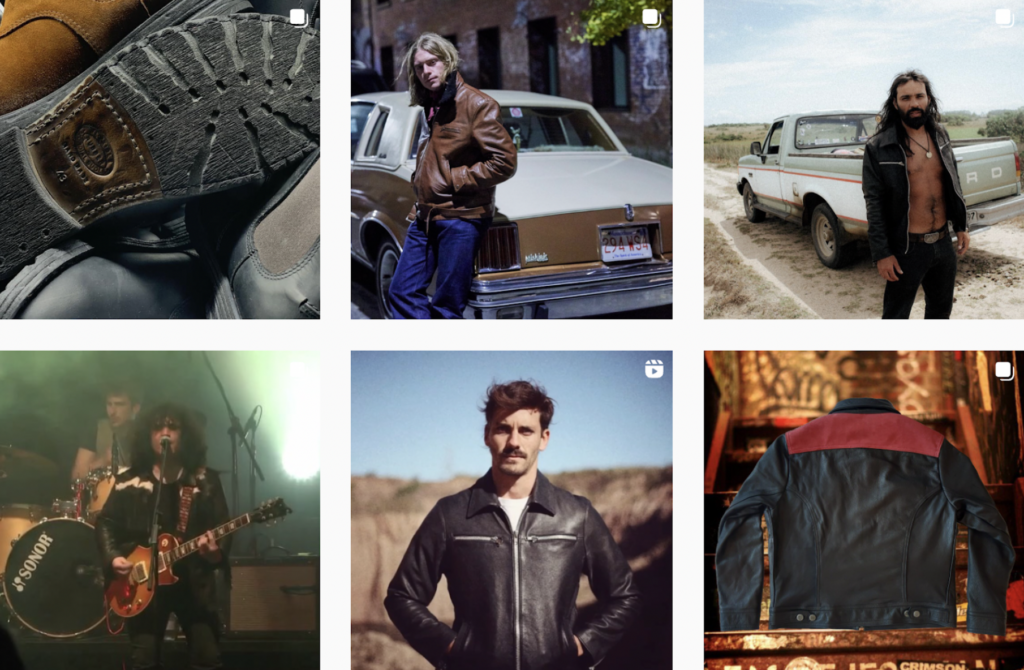 A Rock Legend Comes to Uruguay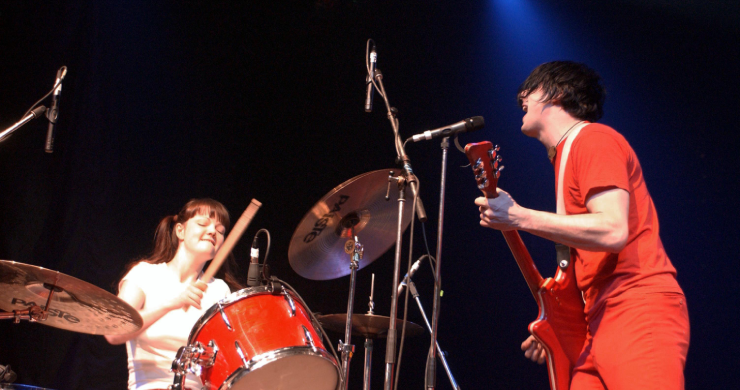 Jack White, the Grammy-winning frontman of the White Stripes and the Raconteurs, embarked on his 11th world tour. But something was unique this time around: for the first time, Uruguay was a tour stop. Tavo is a superfan. When he learned that Jack was coming to his city, he got inspired and sent me a text: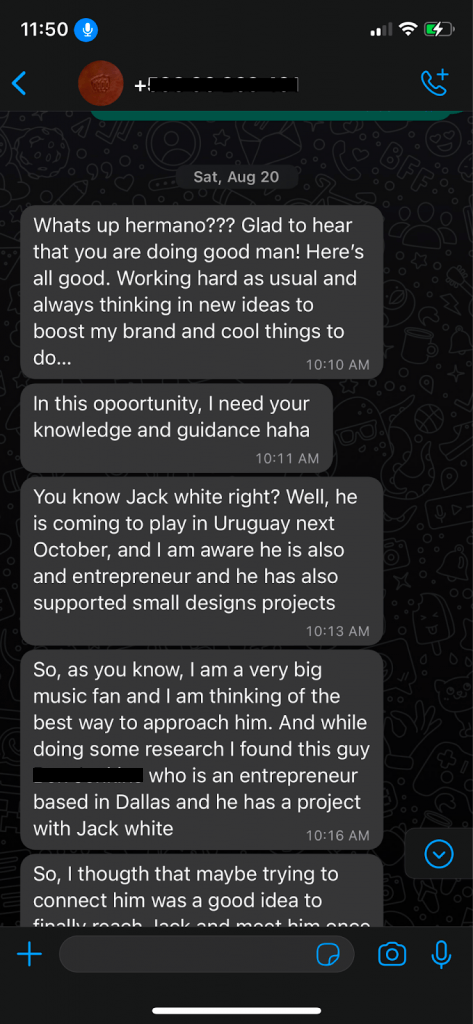 He wanted a line to Jack to see if they could work together. But a platinum-selling rock star is a hard guy to reach. Jack White's email goes into a black hole and his DMs are a clown car. Tavo knew that Jack supported small scale design projects from time to time, so Tavo directed his efforts to one of Jack's past collaborators.
Tavo's sleuthing led him to a designer Jack had worked with in Texas.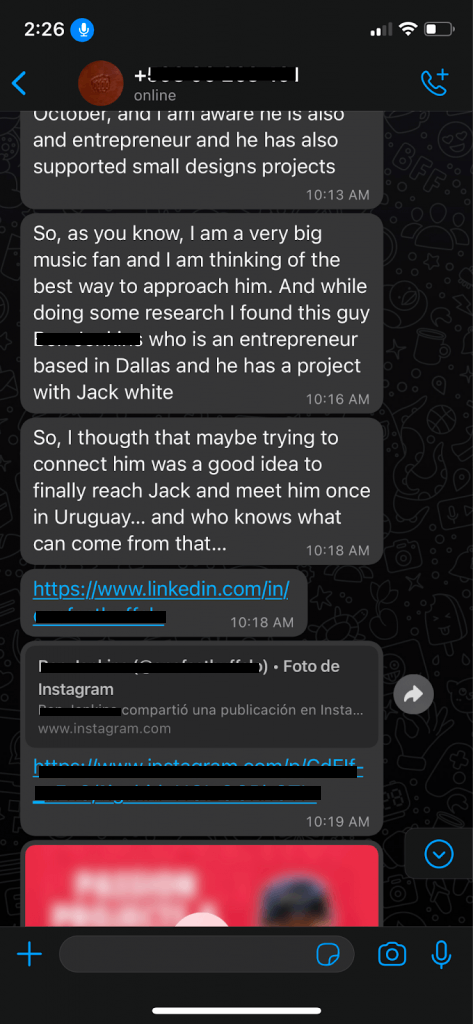 This is the moment I entered the story: Tavo reached out to me because I run entrepreneurship programs for a living and cold outreach is something I teach (Cold outreach is how I landed speaking gigs in the Caribbean, students in my course, and the love of my life). Tavo wanted me to punch up the email to Jack's designer.
That's when Tavo tells me he's going to ask the designer for an intro to Jack. He sent me his email draft and outlined his ask: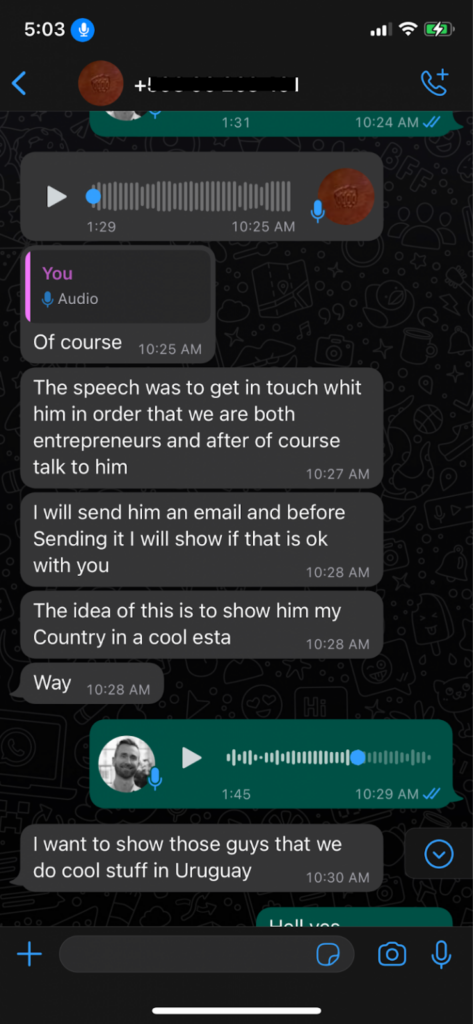 "Those guys"? "Cool stuff"? Godawful. I put my down and sighed. Dammit, Tavo. You're a grown-ass man! Why would Jack care?
Asking Jack White to "hang out" feels reminiscent of someone emailing you for coffee so they can "pick your brain." Nonspecific. Vague. No idea if you'll regret giving away that hour of your life. I can't stand it when people ask that of me and I doubt Jack would feel any different.
If you're an entrepreneur, there is a magic phrase that increases the success of literally anything you're doing that involves other people. That phrase is WIIFT: "What's In It For Them?" Founders are rightfully excited about their work, but it doesn't mean others will be.
I suggested an alternate approach. Tavo makes rock and roll leather goods for a living. And part of the reason Jack White's music resonates with Tavo is because they share a love of that style. Having this skill and not using it to get Jack's attention is like being a gourmet chef and taking someone to McDonald's.
I planted an idea: why not make a custom jacket for Jack as a way to show gratitude for the music Jack has given the world? Asking the designer if he could facilitate getting a badass jacket in Jack's hands is a more compelling ask than "I want to show him we do cool stuff in Uruguay".
Let's ask Jack's designer if he would be open to facilitating that connection.
What I love about this strategy is that it opens up a different door. An international music star wearing your product would make a great story for OTRA Vintage Style Goods.
So we started plotting. We crafted a clear, to-the-point email that got a great response: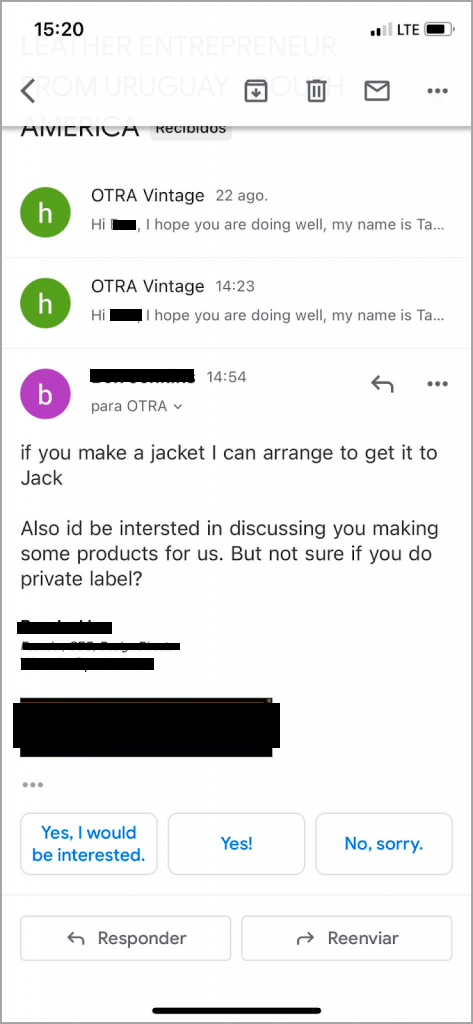 This was the moment when it started to get real. Opportunities emerge in the process of chasing them, not at the end. There's an entire narrative of making the jacket that Tavo could turn into something cool. He's creating the design, selecting the pieces, choosing the colors—all of this makes for interesting storytelling and ways to spread the word about what OTRA Vintage does. So I told him as much: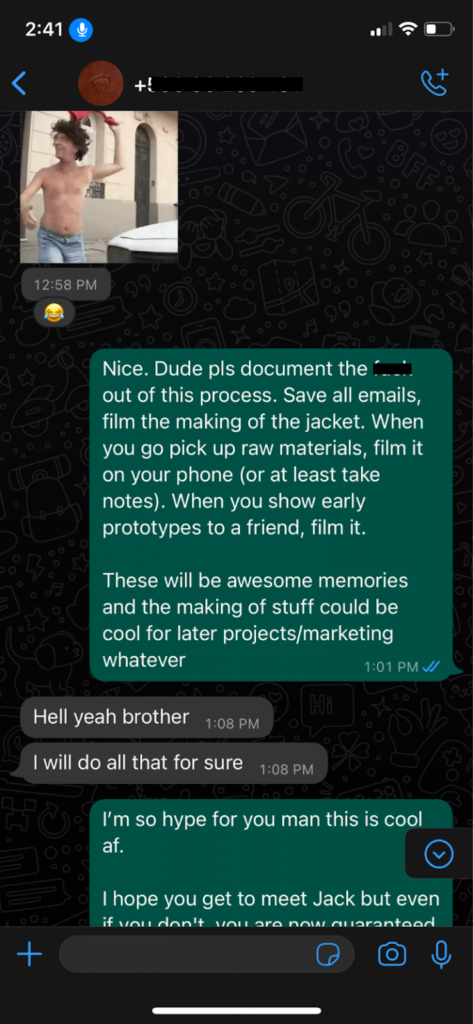 What's beautiful about this is that the narrative is exciting even if the connection never happens. The story of making a jacket for Jack White is interesting unto itself. Who wouldn't want to follow this journey? It's a story about art, creativity, a famous musician, and an underdog. This approach increases his surface area of luck because even if Tavo's efforts don't snare Jack, someone else might see it and commission some leather goods.
After some back and forth with Jack's designer, Tavo got the details he needed: Jack wears a 42 and he's all about the color blue these days.
The Jacket
Tavo went to work. He made something gorgeous: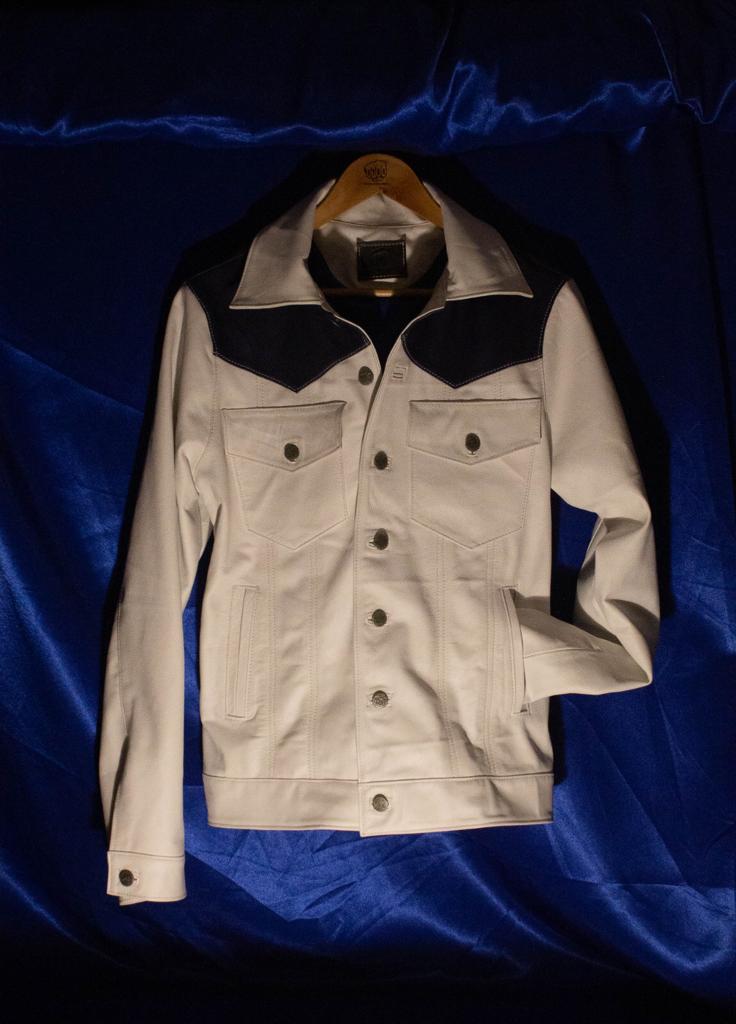 The Night of the Show
So what happened? Did Tavo's jacket reach the person who inspired it? Or is it just a cool story of an underdog shooting his shot?
That night, Jack announced to the audience he received, "…a wonderful gift from a talented Uruguayan maker…an incredible white and blue leather jacket with Elvis collars from OTRA Vintage's Gustavo Rodríguez."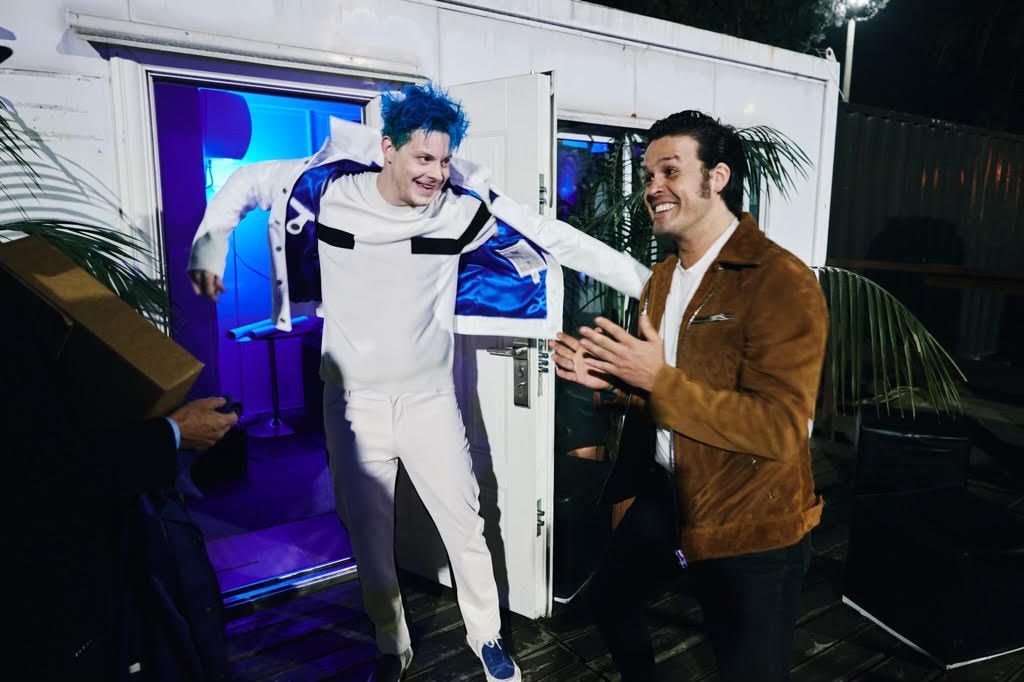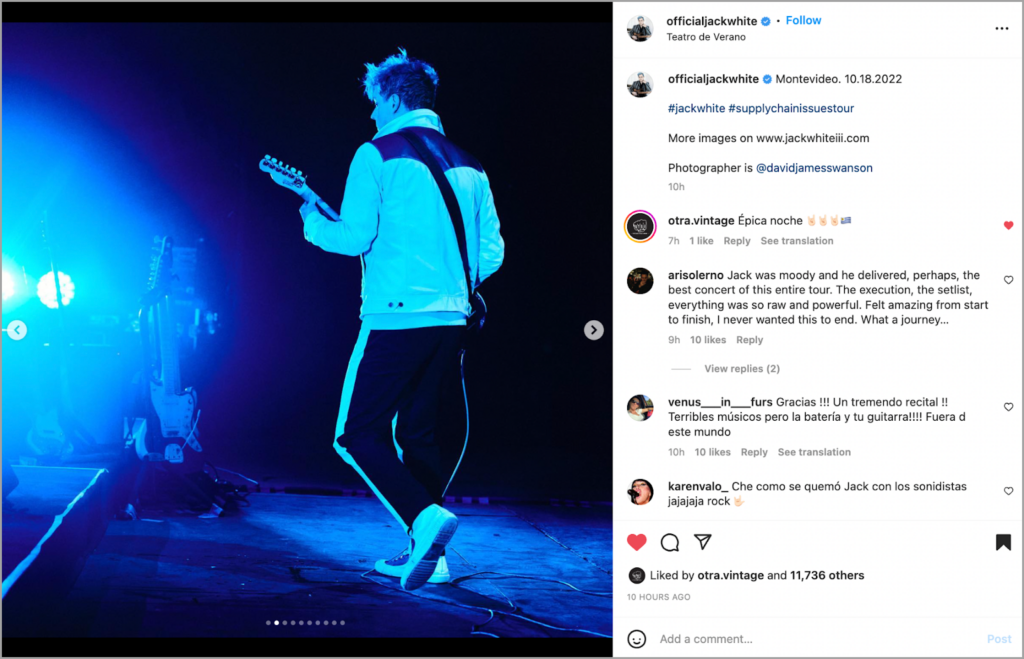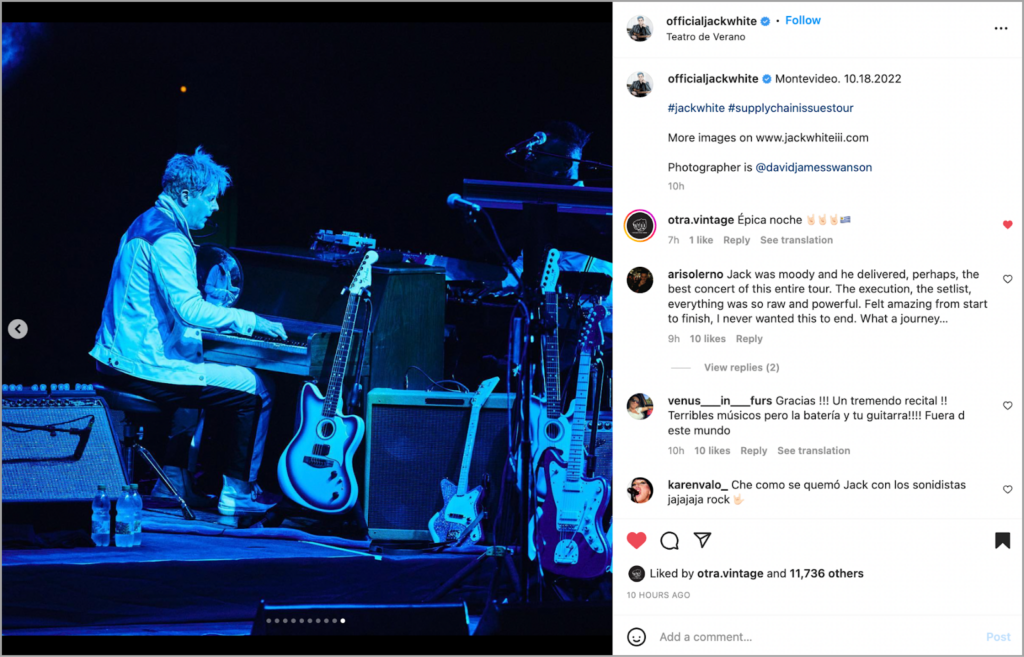 If you're trying to grow something–your career, your product, your company—you don't need to be born with connections and money. All you need is a little creativity, WIIFT ("What's In It For Them"), and the courage to shoot your shot.
And not every shot will hit. Matthew McConaghey still won't guest speak in my class, the CEO of Convertkit didn't agree to partner with me, and NBA player/Youtuber Matisse Thybulle won't answer my DMs. But if you never take your shot, nothing will come your way.
If you want more stories and breakdowns like this, join my newsletter on entrepreneurship, video, and betting on yourself: https://actionworks.co/newsletter.

Thanks to early readers: Ellen Koenig, Michael Dean, Brian Astrove