The first cohort of Minimum Viable Video ("MVV") ended with a Virtual Film Festival of our students on December 17, 2020. 
It was the culmination of five weeks of learning, experimenting, and creating for our 20 students. In such a short time, they made a huge leap in their video skills. As they streamed their videos to a crowded Zoom room, we felt proud seeing how far they had come.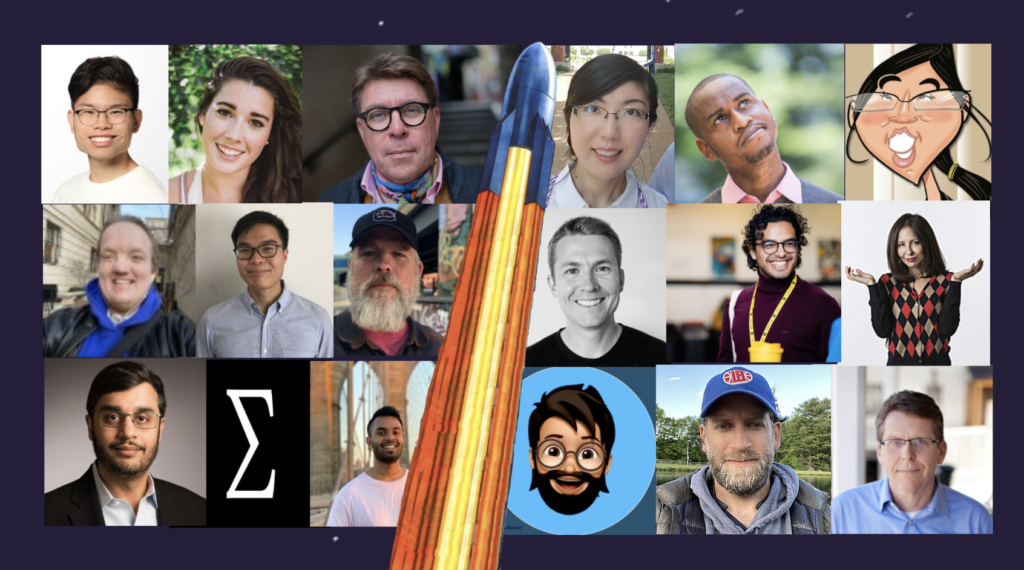 The first cohort might have ended, but our journey of building Minimum Viable Video into THE ultimate course professionals take to accelerate their career with video has just begun.
We're squeezing as much learning as possible out of this cohort to make the sequel even better.
We believe in "building in public," so we're sharing our post-mortem with you here, covering…
What went well
What could have been better
What are we changing for the next cohort
But before we dive in, let's briefly discuss…
What input are we using for our reflections?
The conclusions you can draw are only as good as your data.
In addition to our own subjective perceptions, we're basing our analysis on the verbal feedback we received from our students in our classes, as well as their written feedback from our exit survey.
That's where we asked our students questions such as:
How has MVV impacted your life? How do you expect it to impact you in the future?
What's your biggest win from the course?
Which part of the course had the biggest/least impact on you and why?
How many videos did you film/publish during the course?
What could we do to support you beyond MVV?
What's the #1 way we should improve MVV?
First, to the good news.
What went well?
Significant improvement of students' skills and abilities
I learned a lot about making videos, and gained the courage to start publishing publicly.

MVV student
We sent out surveys at the beginning and end of the course to let students rate the confidence in their abilities in 9 different areas on a scale from 1 (low) to 10 (high).
The mindblowing result: Our students improved on average by 102%!
Here's the snapshot of the whole first cohort: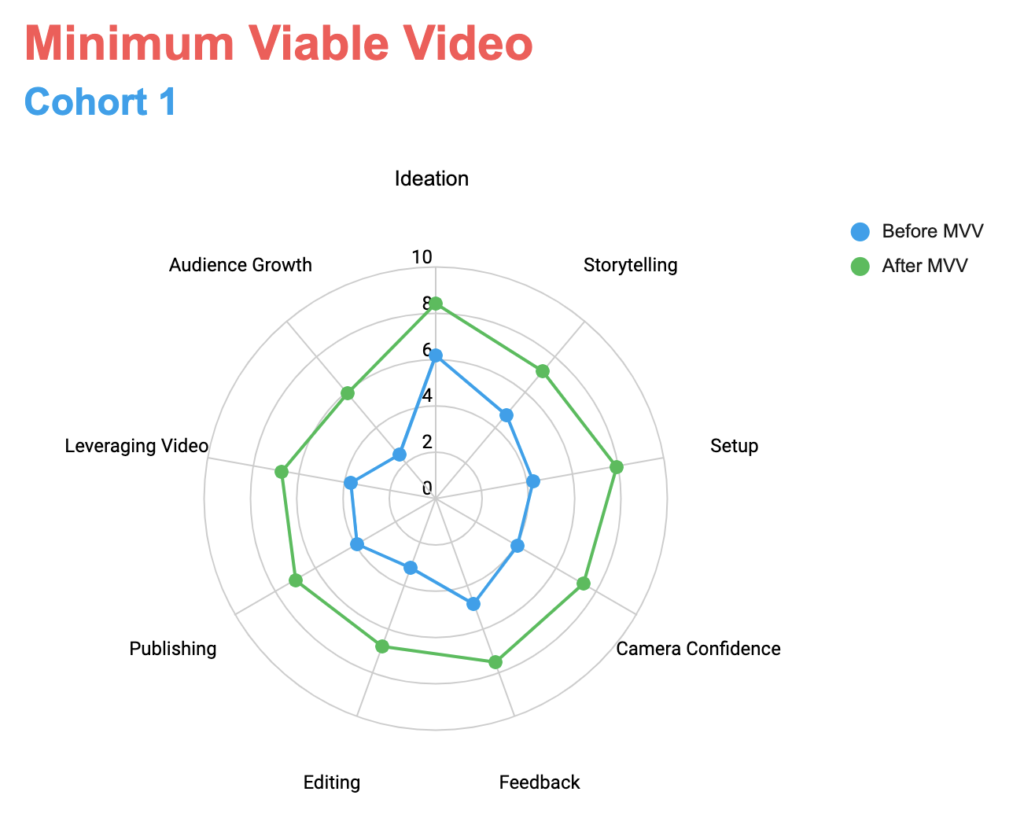 Students filmed and published LOTS OF videos
I've shared 20 videos over the course of the last three weeks – already unlocking new opportunities and connecting to new friends.

Sunil Suri
We've been preaching that quantity leads to quality throughout the course. The more videos students make, the more they'll improve.
It's great to see that they took this to heart and filmed in total 620 videos, out of which 352 were published (this counts videos with an audience of one).
A strong community as a space to learn and grow
On our sales page, we promised that students would find…

The goal was to create a safe and supportive environment so students would feel comfortable to show their work, practice vulnerability, and accept feedback. 
We're proud to say that the community aspect of the course exceeded all expectations. Our students brought great energy, enthusiasm, and willingness to contribute. Some still have daily conversations, and they can count on comments and likes for each other's videos. 
"[My biggest win] was the positive feedback and being able to share with everyone in MVV publicly during our calls. Every time that I share live it makes me nervous, but I am always overwhelmed by the positive response."
Another student mentioned that "connecting and getting to know interesting people all over the world" had a significant impact on her.
Post-live session Q&As
While the lectures are obviously a core part of the course, we gained new appreciation for the informal time spent with students after each class.
The 30–4 yes yes5 minutes we stayed on were not only a chance for students to ask questions, it was also important bonding time. We joked around and worked through individual roadblocks. Some students used the time to stream videos to the class to get feedback. 
This Q&A time was great learning for us as we realized which concepts weren't as clear as we thought and what other topics students were curious about. These insights will inform the design of the lectures in the next cohort.
5 guest speakers shared their expertise
We hosted bonus sessions with five experts with very specific expertise in an area related to video. Some students said these made the biggest difference in the course.  
Ali Abdaal – Q&A about all things YouTube with an actual YouTube star
Robbie Crabtree – How to tell a captivating story, taught by a trial lawyer
Spencer Ingram – How to pitch someone with a video, taught by master of sales pitches.
Nate Kadlac – How to design your video thumbnail, taught by a pro designer
Joe Gannon – How to grow on LinkedIn, taught be a LinkedIn content manager
MVV Resource Hub in Notion
"Mindset over Toolset" is a core part of our philosophy. That means we focus on smartphone video and easy-to-use equipment. But things can still get complex.
We wanted one place where our students could go to revisit the concepts we've taught and get their questions answered. The MVV Resource Hub was born.
It's a simple, shared Notion page containing a student directory, notes from the bonus sessions with our guest speakers, as well as resources and tips around…
Audio
Lighting
Camera
Video tools
Production setup & backgrounds
Editing
Feedback
Motion graphics
It also has a section addressing the important mindsets of getting comfortable on camera, sharing your work in public, and growing your audience.
Across the board, we received positive feedback for this initiative.
"Videos for One" helped students get comfortable on camera
We quickly saw that appearing natural and relaxed on camera was a big hurdle for many students.
That's why one of our first assignments was to film and send "Videos for One" to friends, relatives, or coworkers. It's a simple practice of filming yourself, giving someone close to you an update of what's going on in your life or telling them why you appreciate them.
This allowed our students to get in front of the camera and start speaking freely without having to prepare a script, taking a lot of the pressure off.
Because people rarely receive a video that's made specifically for them, the reactions are usually ones of surprise and gratitude. Getting immediate, positive feedback helps reinforce the mindset that it's worth continuing on the journey with video.
Video Sprints defeated procrastination and overthinking
"The sprint sessions were valuable in that it forced us to produce!"
Another major hurdle in creating videos is procrastination and overthinking. To mitigate this, we hosted five Video Sprints on Saturday mornings.
In two hours, we took our students from finding an idea over developing the concept for their video to filming it and receiving feedback. By the end of the session, many had a solid video ready (or almost ready) to publish.
Video Sprints were a cohort favorite. The skill development, output, and sheer fun of these sessions made it clear that we'll lean into them even more next time around.
Even more wins
Cam hosted 1:1 calls with almost all of our students to give them specific guidance and personalized feedback on how to use videos in their careers.Everyone's career goals are different and everyone learns differently. This personal touch ensured students received maximum benefit from the course.
Reminder and recap emails kept students on track. We wanted our students to feel challenged but never confused. Sending a reminder email before each class with the Zoom link to join as well as a recap email afterward made sure of that.
And lastly: We didn't have any major hiccups! Nothing broke. Pretty much everything was smooth sailing. That's how we want it.
What could have been better?
Timing, timeframe, and timezones
We already acknowledged in our launch recap that the timing of the course wasn't ideal.
Our cohort started on November 17—almost simultaneously with Ali Abdaal's "Part-Time YouTuber Academy," where Cam served as a guest instructor.  
The five weeks of the course were crammed into the end of the year, with the Thanksgiving break in the middle. Students felt rushed at times.  
We had several students from Europe, but as we had decided to run our sessions at 8 pm ET, it was almost impossible for them to participate live.
We're still glad that we move forward with this cohort to sustain our momentum and get feedback faster.
The need for more feedback
I found it hard to keep up with providing feedback on the volume of videos produced and I know we get better through feedback.

MVV student
Accelerating progress through feedback is indeed one of the core concepts of Minimum Viable Video.
The idea was that students post their videos in our community on Circle to receive feedback from their peers.
However, some students admitted that they didn't give much feedback to others. Some felt overwhelmed coming back to Circle after time away, not knowing where and how to catch up.
That left other students not receiving enough feedback on their videos.
We believe a larger cohort and dedicated feedback groups can solve this challenge.
Technical differences
Video has more technical barriers than other creative disciplines such as writing.
Minimum Viable Video focuses on smartphone cameras. Some students have Android phones, others iPhones. Some students work on a PC, others on a Mac. 
With different workflows and editing software used, it becomes more difficult to address individual needs and challenges.
There's no easy fix here. We plan to include additional questions in our next onboarding survey to uncover the technical setup of the students, so we can find supporting tutorials and resources for them.
What are we changing in the next cohort?
Streamlining the course infrastructure
We found that our students' and our attention was split between too many different tools…
We're looking to simplify our tool stack. Likely, this will mean cutting out Teachable and hosting our session recordings on Circle or Notion instead.
Developing course pre-work
We noticed that our students still had to acquire their gear and identify the right setup in their home in the first two weeks of the course. That slowed their start and their learning.
Ideally, all students would be ready to shoot on the first day of class. To get them to this point, we plan to introduce pre-work that'll outline what gear they need way ahead of time. Pre-recorded videos on the basics of lighting, audio, and background setup will allow for more time to work through specific roadblocks in the live sessions.
Simplifying and structuring the curriculum
Having gone through the first cohort, it became much clearer how the content should be structured for maximum impact.
Forming feedback groups
As mentioned earlier, feedback is crucial for progressing and we want to get our students as much quality feedback as possible.
We plan to split the next cohort into smaller, dedicated feedback groups. When students are accountable to three to four of their peers, they'll be much more likely to take the time to give feedback as to not let their group down.
Also, smaller groups will help form stronger bonds between students and hopefully lead to some interesting serendipity when it comes to collaborations and opportunities.
Developing a personal plan forward
Some students expressed the desire to create a personal content calendar and plan for the time after the course to sustain the momentum.
We're considering making this an assignment in the next cohort. It would be something tangible they leave the course with, besides the videos they've created.
The way forward
We're currently taking the course through the Keystone Accelerator program to refine our marketing and messaging.
Cam and I are thrilled to embark on the next cohort and help people master video to advance their careers and businesses.
Cohort 2 ("the sequel") of Minimum Viable Video starts in April. Click here to join the waitlist.